Jaipur is known all over the world as the "Pink City". It is called so because a large number of the tourist places in Jaipur are of the terracotta pink color, such as the forts, havelis and palaces. Jaipur is probably the most important tourist destination in India after the medieval city of Agra. Jaipur Travel Guide drives you to the ramparts of Rajput clans and to the vibrant markets arraying with traditional attire and handicrafts.
It is the capital city of the state of Rajasthan and the prolific nature of Jaipur tourism makes it the busiest cities in India today. The city was founded in the year 1727 by Maharaj Sawai Jai Singh II, who was the ruler of the nearby city of Amber. The old city is surrounded by a strong wall and beautiful ornately painted gates. This was the first planned city of India. The city has been battle ground in the past and has witnessed great victories, hence Jaipur is also referred to as the city of victory. Thus Jaipur Travel Guide also speaks about the heroism and chivalry of the Rajputs who brought the city sired by palaces, forts and royal colours.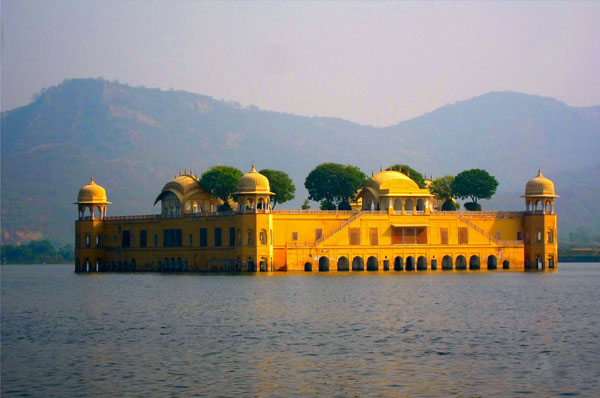 ---
BEST TIME TO VISIT
October to March: There are cool breezes along with moderate sunlight in the month of October making it suitable for visitors to go for sightseeing during the day. Winter season in Jaipur begins in the month of November and ends in the month of February. Evenings are generally cold in this season and sometimes the temperature at night can drop down till 4 degree Celsius (especially in January). This can be an ideal time for tourists to go for shopping and other tourist activities even in the afternoon. In the month of March, an Elephant festival is held in the town which attracts a lot of visitors. Also, the weather remains pleasant throughout the day during this month.
April to June: These months constitute the summer season in Jaipur. It is quite hot especially during the day time and hence, sightseeing can be difficult. The temperature can soar up till 47 degree Celsius. Gangaur festival is celebrated in the month of April and a fair is organised during this time. People travelling during this time should carry light cotton clothes to wear and drink plenty of fluids to prevent dehydration during daytime.
July to September: These months constitute the monsoon season in Jaipur. Those who enjoy nature and rains, it is a perfect time to see the pink city in its natural hue. While there is less rainfall in the month of June, August is the rainiest month in Jaipur. This is also the off-season and hence many hotels offer great deals on regular stays. In case you are a budget traveller, you can surely visit the pink city during this time. Also a popular festival is celebrated by the locals during this month Teej which occurs during August. You would see local bazaars lit up, sweetshops selling traditional sweets like Ghevar in different varieties accompanied by dance and music performances.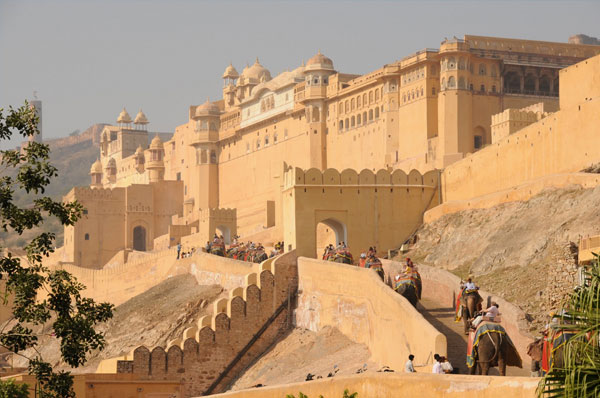 Jaipur as all of Rajasthan, is a very colourful city and the list of things to do here is long. Famed for the cluster of royal forts and palaces available, the activities in Jaipur is all about going for camel rides, boating, playing polo etc. Enjoy boating at Mavtha, Amer. Monsoon pulls a huge crowd to this place and people enjoy boating here. The landscape of this place is a treat to the eyes, which makes it an ideal tourist spot.
Want to try your hand in polo? Visit Ramgarh Grounds, which is situated amidst the Aravalli Hills and the Ramgarh Lake. The horses in this ground are well trained and the grounds are well maintained. Visit this place during the Elephant Festival when elephant polo matches are organised.
Adventure enthusiasts may try other adventure activities in Jaipur like a hot air ballooning, sky diving and camel and elephant safaris. If you wish to try some unique adventures while in Jaipur do try out the hot air balloon ride in Jaipur. Its thrilling to get a bird's eye view of the Pink City and if you are lucky enough you can also get a glimpse of a few animals! But like all beautiful things, this joyride is also pricey! There are some renowned companies that offer such flights in Jaipur between September till February when the temperature is not that high.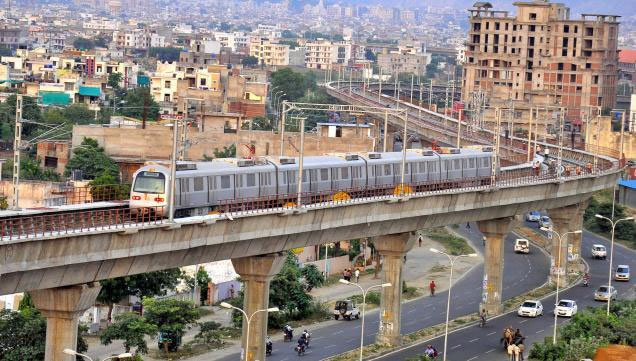 ---
JAIPUR SHOPPING
Jaipur offers one of a kind shopping experience with its rich treasure of bewitching jewellery, beautiful gems, semi precious stones, kundan and minakari work (enamel work on gold). Beautiful cotton fabric including sanganeri prints, tie-dye, and fine kota doria saries are the best buys for women. The exotic blue pottery, enamelware and brassware, make excellent souvenirs and gift items. The city is also famous for woolen carpets and cotton rugs, as are the leather footwear, especially that embroidered juties. The famous shopping spots are Rajasthali (the Rajasthan Government showroom on MI Road), Johari Bazaar, MI road, Nehru Bazaar, Bapu Bazaar and stalls at Bari & Choti Chaupurs. Bagru and Sanganeri textile block prints can also be purchased from the shops located on MI Road. The markets are generally closed on Sundays.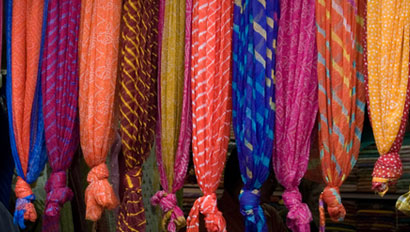 EATING IN JAIPUR
Get a taste of the local Rajasthani cuisine. As Jaipur is famous for its vegetarian dishes that are spicy and are mostly prepared using ginger, garlic and onion. The popular regional dishes include dal bati choorma, Curry and kebabs. Nehru Bazaar and Johari Bazaar are famous for street food and small eateries. The Bani Park region is famous for its vegetarian dishes that are served in traditional Rajasthani way. Snacks and sweets like samosas, pyaz ki kachoris, mirchi bada, mishri mawa, ghevar, mawa kachori, chauguni ke laddu etc. are some of the local delicacies.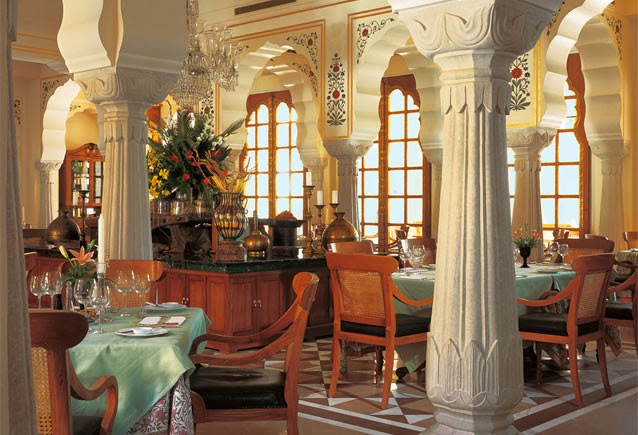 TRAVELLING TO JAIPUR
Jaipur is well connected by road, rail and air to major destinations in India. Jaipur International Airport or Sanganer Airport is located at around 13 km from the main city. The airport is served by flights from Delhi, Mumbai, Hyderabad, Bengaluru, Chandigarh and various other cities. Taxis can be availed from this airport to travel to the city centre, which usually cost about INR200.
Direct express trains and passenger trains are also operational between Jaipur Junction Railway Station and other cities to reach Jaipur. These trains are available on daily basis and cost as per the travel class and distance. Taxis, auto rickshaws and cycle rickshaws are available from the station which is about a kilometre away from the city centre.
Rajasthan State Road Transport Corporation (RSRTC) buses operating in the state connect with some of the major locations in the country. Direct RSRTC buses are also available from Delhi to reach the Sindhi Camp Bus Stand in the city.